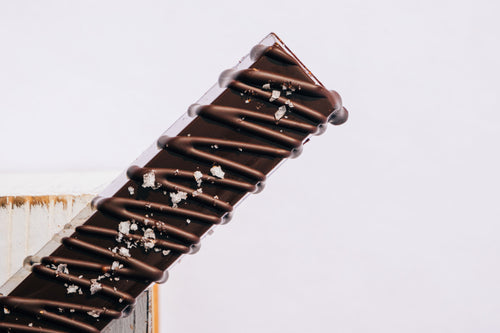 1. Finding Inspiration
Each and every Jane & Sue chocolate begins with an idea. Inspiration can come from anything and anywhere - a stroll along a PEI beach, a fruit display, or a painting at an art gallery. From that ethereal seed of inspiration, we find our way to a concept that can be tempered into a new chocolate bar or bonbon.
2. Crafting the Flavours
Developing divine flavours that are uniquely Jane & Sue is an exhilarating part of the process that demands an exacting combination of artistry and science. We'll start with a tried and true recipe for a ganache, caramel, nut-based, butter-based or water-based chocolate, and then the fun really begins.  
Oftentimes, we find ourselves experimenting with nostalgic flavours from childhood or local infusions that we happen up at our beloved farmers' market. Using the highest-quality ingredients, we taste and tweak until the flavours offer layer upon layer of delight.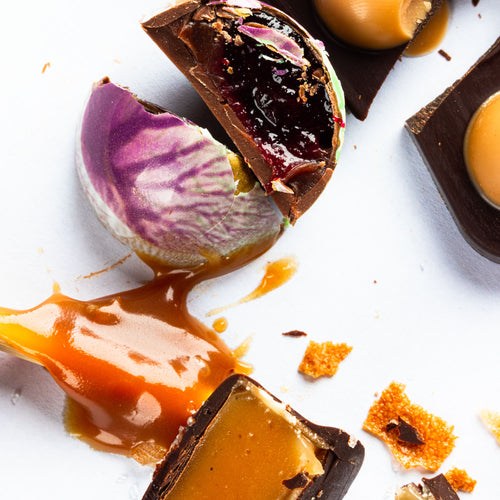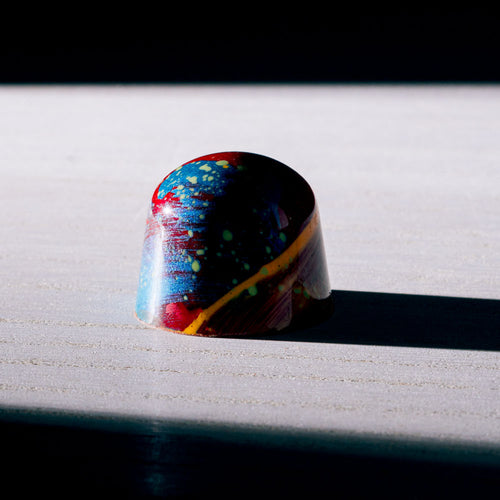 3. Polishing
Our molds are the canvas for our chocolate creations. As such, we ensure they are polished to perfection before we begin. This is the secret to a super shiny chocolate shell that glistens.
4. Painting
We want every bonbon and bar in our collection to spark joy while hinting at the distinctive flavours within. With each chocolate creation, we have to decide when brighter is best and when less is more. Sometimes we choose to leave the shell unpainted, other times we feel drawn to creating an abstract work of spattered art or a refined pattern.
When we're ready to express the design we're envisioning, we airbrush or hand paint layers of coloured cocoa butter into each mold. The end result is a one-of-a-kind work of art that's meant to be savoured.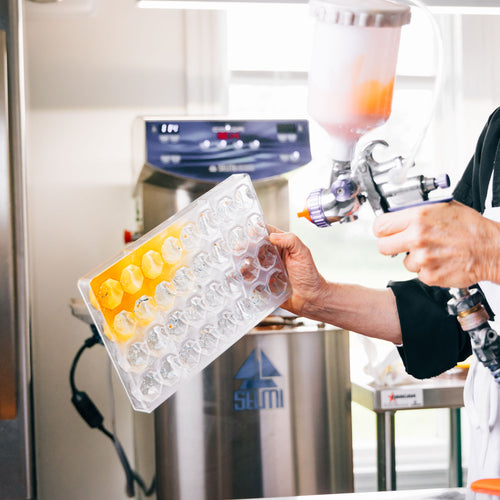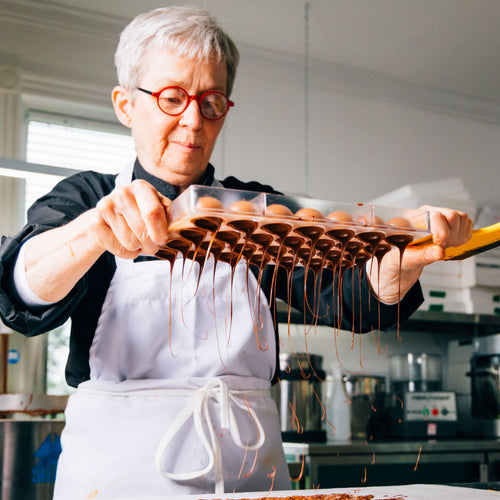 5. Shelling and Filling
Once the molds are painted, we pour carefully tempered chocolate into each one then flip the tray over to remove the excess chocolate. As the shell sets in the mold, it contracts and pulls the painted design onto the chocolate.  
Next, it's time to fill our shiny painted shell with the flavours and textures we've crafted to perfection. Once the molds are filled, we leave them for a day to crystallize.
6. Capping and Tapping
Once the fillings have crystallized, we seal in the delectable flavours by capping each mold tray with tempered chocolate to create the bonbon bottoms. 
Once the caps have set, it's time to tap. The last step in the chocolate-making process requires a gentle touch. We invert the mold trays and tap lightly to release each bonbon or bar from its mold.
Even now after tapping countless molds, we hold our breath in anticipation as we turn over each bonbon to reveal a unique work of art.  
Now they're ready for you to savour fully and share with loved ones if you feel so inclined.